Terra Luna Shines Amid Wider Crypto Market Doom, Up 42 Percent In 5 Days in 2022
Because cryptocurrencies come with a significant level of risk, it goes without saying that you should do your research before investing.
While the crypto market has been beset by global economic instability and geopolitical tensions in recent weeks, one altcoin "terra Luna", in particular, appears to be in great shape.
More to know about Terra Luna 
Terra (LUNA), the ninth-largest cryptocurrency, witnessed its price soar from just below US$50 on February 22 to US$81.25 today, a 42.5 percent increase in just six days. But why is this altcoin suddenly gaining popularity? Let's have a look at it. Before the current expansion, LUNA, like the rest of the crypto market, had a rocky start to the year.
What actually happened to cause such a huge rise in Terra Luna?
Last week, though, Terraform Labs' founder, Do Kwon, presented a proposal for a considerable sports sponsorship agreement with an unnamed team.
This agreement will allow LUNA holders to vote for one of the four major sports leagues in the United States: the NBA, NFL, MLB, and NHL. In addition, a five-year sponsorship deal worth $38.5 million will be awarded to the winning club. This is the first time a decentralized autonomous organization (DAO) would vote on whether or not to participate in a sports sponsorship agreement.
Let's take a closer look at the specifics of this transaction. First, while it is uncertain which league would win the multimillion-dollar deal, considering the NBA's previous agreements with cryptocurrency companies, it is commonly assumed that the NBA will likely be the recipient.
The Staple Center, the team's home stadium, was renamed The Crypto.com Arena in November of last year after Crypto.com made a massive US$700 million contract to gain naming rights to the stadium for the next 20 years.
Terra's network has a lot to offer outside of this recent agreement. Terra is a stablecoin network that uses its LUNA token to keep its UST token (set at $1.00) stable.
Terra thinks that this latest sponsorship contract will help bring decentralized money into the mainstream by expanding the network. The current agreement is a much-needed boost for cryptocurrency, which has been hurting due to inflation and the Ukraine conflict. It's unclear how long the recent price increase in LUNA will persist. On the other hand, Terra appears to be devoted to being a viable blockchain in the long run.
Thats all for what is to be informed you all about Terra Luna, For more info you may check out our few articles posted recently. here's a list:
I hope you liked this simple and short article on Terra luna, Do comment with your point of view below in the comment section and i would love to react to it! See you in a bit at cryptocurrencysimple.com.
Frequently Asked Questions:
What is Terra Luna?
LUNA is one of two tokens produced by Terra, a blockchain technology that is building a worldwide payments system using the dollar-pegged stablecoin UST. LUNA has been one of the top-performing cryptocurrencies over the last two years, rising approximately 76,130 percent from its March 18, 2020 low of $0.12.
2) Is Terra Luna a good investment?
Investors have been positive on the cryptocurrency, with many viewing this reserve as a means of mitigating the platform's volatility. Since then, LUNA has risen to seventh place in terms of market capitalization, surpassing Solana (SOL) and Cardano (ADA)
3) How high can Terra Luna go?
According to Price Prediction's LUNA/USD estimate (as of 21 February 2022), it might reach $2,521.28 in 2031.
How to buy Bitgert BRC-20 ( $BRISE ) Token in the current market in 2022
Obtaining some coins is more complex than others. One of them is Bitgert. Unfortunately, Coinbase, Binance, and other popular centralized exchanges don't have it. But don't worry; we've included some pointers to assist you in locating a Bitgert purchase option that works for you.
So, hello, forks. This is me, Pushkar, and today I will let you know how you can easily Buy Bitgert BRC-20 Token easily through the centralized or decentralized exchange at your ease. So, let's get dive into it!
Steps on How to Buy Bitgert BRC-20 Token easily in Market
1) Check CoinMarketCap to see where and with which currencies you can buy Bitgert.
CoinMarketCap gives a list of where you can buy each cryptocurrency (also known as market pairs). For example, it is possible to find Bitgert on CoinMarketCap if you search for it. The "Market" button is near the price chart. 
This view shows you all the places where you can buy Bitgert, as well as the currencies you can use to buy it. This is where you'll see the Bitgert abbreviation BRISE and the name of the other currency. Two currencies can be used to buy Bitgert. The second one can be used to Buy Bitgert BRC-20.
If you want to buy BRISE in US dollars, look for the symbol BRISE/USD on the market.
2) Choose a way to buy things.
Platforms aren't all the same regarding security, reliability, and liquidity. So before you open an account for Buy Bitgert BRC-20, do your study.
3) In step three, you can buy something on the platform of your choice.
There are different ways to do things on each platform. Some platforms are straightforward, while others are not easy to use.
It's easier to buy crypto with a fiat currency, like the US dollar, than to buy it with another cryptocurrency.
Exchange with where you can buy Bitgert BRC-20 Coin at your ease! Just click to your favourite exchange and you will go to the Sign up page! Easy? Yes that's what simplicity Cryptocurrencysimple get you!
Gate.io
PancakeSwap (V2)
MEXC
BitMart
XT.COM
IndoEx
BitForex
Hotbit
The first step is to build a Bitgert-compatible crypto wallet. Then you'll need to buy the first cryptocurrency and use it to buy Bitgert on the platform of your choice.
Most platforms have help guides if you get stuck on them. Many people love crypto and have written guides on YouTube, Twitter, and other social media sites if they don't.
More about what's happening with Bitgert BRC-20 Token
Bitgert's price has dropped 0.13 percent in the last seven days. During the previous 24 hours, the price rose by 10.70 percent. The price has increased by 0.65% in the previous hour. The current BRISE price is 0.000058. The new price is 0.000058, which is a new all-time high.
BRISE Swap
BRISE Swap is a decentralized exchange based on the Binance Smart Chain, a faster and more affordable alternative to Pancakeswap.
BRISE Token Roadmap
A Staking Program for BRISE Revenue Sharing
BRISE staking is a scheme designed to share revenue with our investors and Auto-BNB payouts in BUSD with additional APY 80 percent returns.
Wallet for BRISE dApps
BRISE dApp Wallet is a multi-coin wallet that allows you to send securely, receive, store, and swap various cryptocurrencies. In addition, the application offers you a secure access key that prevents unauthorized access to your assets. BRISE dApp Wallet will be available for download on iOS and Android mobile devices, with multi-coin compatibility allowing you to buy and sell hundreds of coins and blockchain kinds.
Tweet from the BRISE official dev team
📢 Bitgert Chain is LIVE!

For more information, visit https://t.co/I2q5P1tOIj#BITGERT #BLOCKCHAIN #BRISE pic.twitter.com/HRpiLq7awb— Bitgert – $BRISE (@bitgertbrise) February 15, 2022
I hope you find this article helpful while you buy Bitgert BRC-20 Token. Rest is all you need to do is have a good investment mindset. I will also write a detailed article on tips or points to make your investment plan. I am all done for now. Allow me to leave and check out more on Buy Bitgert BRC-20 Coin on cryptocurrencysimple.com
Terra Luna price gained 100% in 5 days amid a market crash! Terra Luna TA & FA Analysis 2022
Following a severe meltdown earlier this week, the cryptocurrency market has recovered. Many altcoins could rebound slightly and bounce back from their respective support prices. Terra Luna was one of the altcoins that had a strong recovery with Terra Luna price, with its price increasing by more than 20%. Except for LUNA, which is currently up by more than 95 percent during the last seven days, most cryptos are negative. Is LUNA proving to be an excellent coin to purchase to protect against the crypto downturn? Should you invest in LUNA and include it in your cryptocurrency portfolio? In this Terra Luna Price prediction, we'll look at all for you to analyze it more preciously. What's next!? Let's get into it!
What is Terra (LUNA) Crypto Coin?
Terra is a blockchain technology that uses stablecoins to stabilize global payment networks. In reality, they say that by adopting Bitcoin (BTC), they can combine price stability with fiat currencies, resulting in low-cost settlements. However, volatility is a hot topic in the cryptocurrency community. 
It is one of the key reasons investors are hesitant to invest in cryptos. Terra wants to fix that by introducing stablecoins tethered to fiat currency. A patented algorithm that automatically changes stable coin supply based on demand would maintain a "one stable coin to one fiat" peg. This is made possible by their LUNA token, which provides liquidity price stability, and is easily swappable for other stablecoins at favorable exchange rates.
Terra requires more individuals on the network for this currency network to function. Terra Alliance, a group of 15 major Asian e-commerce giants, was founded to do this. The alliance conducts $ 25 billion in annual transactions and has 45 million active users. 
As a result, Terra may offer a simple payment network without the need for typical payment value chains. Furthermore, Terra has much lower transaction costs. It is developing a more rigorous infrastructure with DeFi tools and assets for users to employ.
How does Terra Luna Works? 
The Terra protocol functions as a distributed ledger kept up to date by network validators. Validators use the DPoS algorithm to vote on blocks, earning LUNA tokens in the process. Terra miners contribute to security by participating in the Proof of Stake consensus mechanism. They also assist in price stabilization by absorbing short-term demand fluctuations.
As a result, the network achieves stability through mining rewards as the money supply contracts and expands. Terra applies pressure to bring prices back to normal whenever they diverge a little. Terra's supply is constantly replenished or depleted by the LUNA pool and Terra pool. Miners use LUNA to mint Terra and the other way around. The procedure provides consistent rewards in both contractions and expansions. As a result, the simple supply and demand law applies.
Token Economics of Luna 
There are two sorts of tokens in the Terra ecosystem: a comprehensive family of Terra Stablecoins and LUNA. LUNA's native coin is used for governance, mining rewards, volatility mitigation, and transaction fees. Miners stake LUNA to mine Terra stablecoins, and the system uses a Delegated Proof of Stake (DPoS) mechanism. 
The world's strongest fiat currencies are tied to Terra stablecoins. The package includes USD, EUR, CNY, JPY, GBP, KRW, and other currencies. The network will add new coins over time as users vote.
Technical Analysis of Terra Luna Price
Prices were predicted to reach the psychological price of $60 after the LUNA price came the firm support of $50. Instead, LUNA prices continued to rise as part of the crypto rebound, approaching the next resistance level of $70. The primary pricing zones of LUNA that all represent psychological prices are highlighted below:
50$, Which was a Support area luna took and showed us Feaking outstanding rally
The next Physiological resistance was at 73$, Where Terra Luna Price Broke it in 1st attempt and eventually took healthy support, and then Price started rising again to the next resistance.
Next Horizontal Resistance was at 85 – 87$ Zone which kept Luna stagnant for a bit but ultimately it broke out when whole market rose on this Monday night.
Terra Luna Price is very near to its All-time High peak price point, Now there are two possibilities for you to look at:
Whether Luna goes and break 87$ support and find it as current support and after that we may come to the point, Terra Luna Price can actually come to the ATH and make a new ATH and enter in a price discovery phase!
But But But, We all know there's a most famous price pattern is known as Double top. So Terra Luna Price may form a double top pattern and start a downtrend.
These are 2 possibilities that may happen or may not happen, Also it all depends on hows the Crypto Market AKA BTC price action tells, So just wait and watch the levels I shared below, so you guys can get a whole idea of what I am talking about.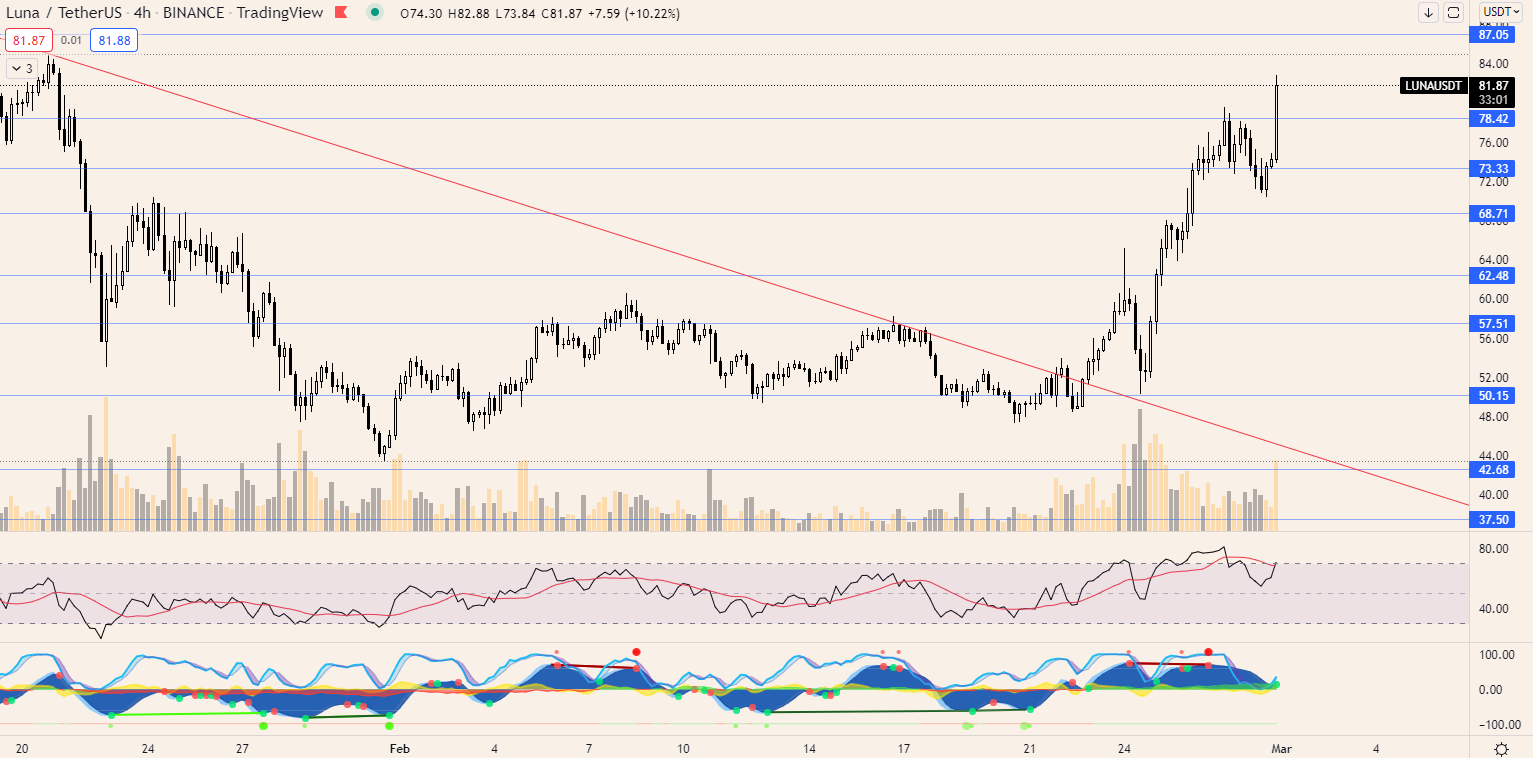 A $70 buy order can be placed if the crypto market continues to rise.
If the crypto market falls below $50, a short sell can be made according to the price action of Terra Luna Price.
It's critical to remember to set an appropriate stop-loss based on your risk tolerance.
5 Things to Know Before You Buy Terra (LUNA) Coin
Terra already has millions of users and is working on several significant projects. If you're thinking about investing in Terra, here's what you should know.
1) Terra Luna tokens balance out its stable coin prices.
Terra uses Luna tokens to keep its stablecoin prices where they should be. When the stablecoin supply needs to be increased or decreased, it incentivizes trading between Luna and stablecoins.
Consider the following scenario: UST, Terra's US dollar stablecoin, is in high demand. As a result, the price has risen to $1.05, when it should have been $1. Terra will need to increase the quantity of UST tokens to counteract this.
2) In South Korea, Terra is the most popular.
Terra has enjoyed the most successful in its home country of South Korea so far. According to a Terra video from May 2021, its stablecoin linked to the South Korean won is utilized by over 2 million people each year to spend over $1 billion. In addition, Terra's stablecoin, pegged to the Mongolian tugrik, was utilized by 40,000 people every month.
Terra, to its credit, already has a clientele. Of course, there's no assurance it'll succeed in expanding to the United States, but as we'll see later, it's offering a significant incentive to acquire its US dollar stablecoin.
3) Terra is giving a 20% interest rate on UST.
Terra introduced the Anchor savings and lending protocol on March 17, 2021. Users can deposit stablecoins and earn interest on them using this protocol. The simple interest rate yearly on UST deposits is around 20%.
Because UST is a stablecoin with a $1 value, earning 20% interest is appealing. However, it's worth mentioning that the interest rate may vary in the future, and even stablecoins aren't as safe as cash in a bank account.
The high-interest rate may aid in the growth of UST's customer base. If it happens, Terra's Luna token price will most likely rise.
4) Luna tokens are also utilized for project staking and governance.
Holders of Luna tokens have the option to stake their tokens. You pledge those tokens to the network when you stake Luna, and they're used to validate transactions. There is no danger in doing so. You can always pull your tokens out of the game (unstacking can take up to 21 days). In addition, you get a part of the transaction fees Terra earns on the use of its stablecoins if you stake Luna.
Token holders have a say in Terra's destiny as well. For example, Luna holders have voting rights in the project because it is a governance token.
5) The Terra blockchain is in the top five in terms of revenue.
The Luna cryptocurrency hasn't cracked the top 20 in market capitalization. The Terra blockchain, on the other hand, is already one of the largest. According to Token Terminal, Terra is in the top five in terms of revenue. It trails Ethereum (ETH), the Binance Smart Chain, and Bitcoin but is tied with Polygon (MATIC).
For Terra enthusiasts, this is a promising omen. Terra is one of the most profitable cryptocurrency projects, even though many others are still developing.
In conclusion,
The Terra Blockchain's governance and the native token is LUNA. Since its introduction in 2018, the Terra project has been a huge success, and the coin has benefited from it. Thanks to a tremendous price rise, LUNA's price increased by more than 10,000% in 2021. According to crypto analysts, more is expected in 2022, when they believe that the token will be at the top of crypto investors' wish lists. 
I would say always keep an eye on Terra Luna's price because I don't want anyone to lose this valuable gem at a discounted price! Rest, always. I am not a financial advisor. DYOR before investing or trading! Till then, keep reading and keep gaining knowledge on the crypto space through cryptocurrencysimple.com.
Frequently asked questions:
1) What is the Luna currency?
Terra (LUNA) is a blockchain-based payment network with a wide range of services. The network supports several stablecoins, each of which is linked to a distinct fiat currency. In addition, there is a LUNA token that serves as collateral for these stablecoins and as network fuel.
2) What is the total number of Luna coins in circulation?
It has a circulating supply of 1,706,430 LUNA coins and a maximum supply of 1,705,430 LUNA coins.
3) How good is Luna as a cryptocurrency?
In 2021, LUNA was one of the best-performing cryptocurrencies. Over the last 12 months, the coin has increased in value by more than 13,800%, beating most of the other cryptocurrencies. LUNA is presently the ninth-largest cryptocurrency by market capitalization due to its surge.
4) Is Luna a good financial investment?
Some may be surprised to learn that Terra Networks' LUNA cryptocurrency was the best-performing investment in the previous year, with a return of over 14 700 percent in 2021. In reality, an R1,000 investment in LUNA would have yielded +R147,692 over the last year.
5) Is it okay if I mine Luna?
To mine transactions in the Terra system, miners must put some of their Luna into the system. This is called Proof of Stake (PoS). A validator who has staked more Luna has a better chance of making the next Terra block than one who has staked less.
6) Why is the value of the Luna currency continuing to increase?
On Tuesday, people who bought tokens from LFG agreed to keep them for four years, so the company raised $1 billion for its reserve fund. It was a big deal because Jump Crypto, DeFiance Capital, and Three Arrows Capital helped fund the investment round. This caused a big rise in the value of LUNA at the moment.
Top 5 undervalued metaverse coins and gems to skyrocket for 100x Gains!
The Undervalued Metaverse coins, a topic that didn't gain traction until October 28th, when Mark Zuckerberg declared that Facebook would be rebranded to Meta, causing the price of anything metaverse-related to rise.
Domains in the Metaverse are being sold for tens of thousands of dollars. Even before that, a Undervalued Metaverse coins domain sold for $175,000 on eBay. Furthermore, metaverse equities and cryptos rose three to five times overnight due to the news, and metaverse properties and boats are being auctioned for hundreds of thousands, if not millions, of dollars.
Whether you agree with all of this or not, I believe the metaverse is an area of investing that we should investigate further, which is why I hired two full-time researchers. I spent over 10 hours with them and myself investigating the top Undervalued Metaverse coins cryptos that have a possibility to 5x, 10x, or even 100x by 2022.
That's why, today, I'm going to let you know the top five Undervalued Metaverse coins I discovered during my investigation. Let's get started.
My criteria for this whole "metaverse" thing
Today, we'll be discussing a branch of cryptography that I believe has a lot of potential in the future. And that, my friends, is the metaverse. So, where do you start while researching undervalued Metaverse coins and cryptos?
Because there are so many projects available, I went ahead and began my journey with Coin Market Cap. I went to the metaverse tab and ordered the market capitalizations from largest to smallest. And I chose to go for anything less than a market cap of $300 million. And I looked for projects with more than a 50% circulating supply of their currency. Unfortunately, only the last two out of the five fit that condition.
I sought to pick something with more than a 50% circulating supply because it reduces the risk of the investing team dumping all of the coins on the investors.
However, even though three of the projects I discovered did not fit those requirements, I believe there is a lot of potential here.
And, as always, I'm not a financial expert; I'm just a crypto enthusiast sharing what I'm doing in my portfolio with you. Let's get started.
Project #5 (DAR)
Mines of Dalarna, ticker symbol DAR, is the first project on the list, with an 800 million circulating supply. And just around 15% of it has been made public. And this project, which began in 2021 and currently has a market worth of roughly $275 million, was started in 2021. It's an action-adventure game that blends the dungeon-crawling and mining genres.
There are two types of players in the game: miners and landowners. Miners are characters who mine the dungeon, their land, and rented land. And renting is done with the game's Dar token, which is also used for all in-game purchases and the Dow token. People who work as miners will be able to get minerals or different levels of dungeons from different levels and types of them.
The game itself is still in the testing phase, with a release date set for Q1 of 2022. So, why do I enjoy this game so much? I believe it has a lot of potential for passive revenue because you can rent your land and mine for Dar tokens on it. You can not only mine Dar, but you can also stake the Dar you abundance on multiple planets, allowing you to earn even more passive revenue.
And the reason I like it even more is that by staking your Dar, you're effectively locking it up, reducing supply, and hopefully increasing demand. And I enjoy all of the passive income layers in this game because I believe the utility will keep people coming back. Last but not least, this project will have land sales anytime between now and the end of the year, so keep an eye out for those as well. 
Project #4 (NTVRK)
With a market cap of 121 million, Network is now number four on the list. As a result, it has a lower market capitalization and a circulating supply of 100 million coins. The company has released 31% of its tokens so far. This initiative did start this year.
This game allows you to generate in-game assets that may be minted as NFTs, and it already has several agreements with blockchains, including Void, Sidus Heroes, and others. In addition, the token will now be utilized for all in-game transactions, including buildings, land, and land parcels.
Project #3 (WILD)
With the ticker symbol WILD, Wilder Worlds is now number three on the list. And this is a concept that I came across while researching my land investment.
Wild now has a market capitalization of just over $300 million. So it's barely beyond the criteria I was looking for to buy in, but it's already released 15% of its circulating supply of the 500 million tokens it started with.
Wilder World is now an artist's Dow and a liquid NFT marketplace, with built-in platforms like the Artist's Guild, a network community for artists that help them collaborate on ideas and projects. It also features a Mint Factory component, allowing digital 3D artists to design, mint, and drop NFTs.
I believe that 3D art and NFTs have enormous potential. This project intrigues me because it's effectively a Miami-sized universe based on the Ready Player One property, built on Real Engine Five, with usable, traded NFTs. Unfortunately, the latter two are both relatively minor market cap bets. Both have a market capitalization of less than $20 million.
Project #2 (DXO)
Deep Space coin, ticker code DXO, is ranked second, with a market cap of $15 million and a project that debuted this year. You may now purchase this project on Uniswap, and it does have a circulating quantity of 1 trillion tokens; however, 68 percent of these have already been released. It's also a project that claims to be the first to earn Blockchain Universe, a game where you can conquer new regions in unknown universes.
They appear to be nearing the conclusion of the first of their three-part roadmap. The second section of the roadmap outlines when they will introduce NFT. The third section will include land sales as well as VR capabilities. Unfortunately, I couldn't locate any specific dates for this project, but it appears attractive. And I'll be keeping an eye on Discord and Twitter.
Project #1 (EQ)
Equilibrium Games, ticker symbol EQ, was created in October of this year and had a market cap of just under 20 million. It is the last on the list and my favorite project. There are just a hundred million tokens left in this project, and half of them have already been distributed. As a result, I predict the value of this token to skyrocket as its utility grows.
It will have a mobile component available in Q1 of 2022. It will be a massively multiplayer online role-playing game (MMORPG) akin to World of Warcraft or League of Legends, and it will be released at the end of 2022. In addition, they'll now have land for sale, with features that will generate passive revenue. One of these aspects is that landowners will receive taxes from those who slay monsters on their property.
After reading this post, let me know what Undervalued Metaverse coins projects you have invested in or are interested in. Thanks, guys; stay safe out there, and I'll see you next time only on Cryptocurrencysimple.com