Terra Luna price gained 100% in 5 days amid a market crash! Terra Luna TA & FA Analysis 2022
Following a severe meltdown earlier this week, the cryptocurrency market has recovered. Many altcoins could rebound slightly and bounce back from their respective support prices. Terra Luna was one of the altcoins that had a strong recovery with Terra Luna price, with its price increasing by more than 20%. Except for LUNA, which is currently up by more than 95 percent during the last seven days, most cryptos are negative. Is LUNA proving to be an excellent coin to purchase to protect against the crypto downturn? Should you invest in LUNA and include it in your cryptocurrency portfolio? In this Terra Luna Price prediction, we'll look at all for you to analyze it more preciously. What's next!? Let's get into it!
What is Terra (LUNA) Crypto Coin?
Terra is a blockchain technology that uses stablecoins to stabilize global payment networks. In reality, they say that by adopting Bitcoin (BTC), they can combine price stability with fiat currencies, resulting in low-cost settlements. However, volatility is a hot topic in the cryptocurrency community. 
It is one of the key reasons investors are hesitant to invest in cryptos. Terra wants to fix that by introducing stablecoins tethered to fiat currency. A patented algorithm that automatically changes stable coin supply based on demand would maintain a "one stable coin to one fiat" peg. This is made possible by their LUNA token, which provides liquidity price stability, and is easily swappable for other stablecoins at favorable exchange rates.
Terra requires more individuals on the network for this currency network to function. Terra Alliance, a group of 15 major Asian e-commerce giants, was founded to do this. The alliance conducts $ 25 billion in annual transactions and has 45 million active users. 
As a result, Terra may offer a simple payment network without the need for typical payment value chains. Furthermore, Terra has much lower transaction costs. It is developing a more rigorous infrastructure with DeFi tools and assets for users to employ.
How does Terra Luna Works? 
The Terra protocol functions as a distributed ledger kept up to date by network validators. Validators use the DPoS algorithm to vote on blocks, earning LUNA tokens in the process. Terra miners contribute to security by participating in the Proof of Stake consensus mechanism. They also assist in price stabilization by absorbing short-term demand fluctuations.
As a result, the network achieves stability through mining rewards as the money supply contracts and expands. Terra applies pressure to bring prices back to normal whenever they diverge a little. Terra's supply is constantly replenished or depleted by the LUNA pool and Terra pool. Miners use LUNA to mint Terra and the other way around. The procedure provides consistent rewards in both contractions and expansions. As a result, the simple supply and demand law applies.
Token Economics of Luna 
There are two sorts of tokens in the Terra ecosystem: a comprehensive family of Terra Stablecoins and LUNA. LUNA's native coin is used for governance, mining rewards, volatility mitigation, and transaction fees. Miners stake LUNA to mine Terra stablecoins, and the system uses a Delegated Proof of Stake (DPoS) mechanism. 
The world's strongest fiat currencies are tied to Terra stablecoins. The package includes USD, EUR, CNY, JPY, GBP, KRW, and other currencies. The network will add new coins over time as users vote.
Technical Analysis of Terra Luna Price
Prices were predicted to reach the psychological price of $60 after the LUNA price came the firm support of $50. Instead, LUNA prices continued to rise as part of the crypto rebound, approaching the next resistance level of $70. The primary pricing zones of LUNA that all represent psychological prices are highlighted below:
50$, Which was a Support area luna took and showed us Feaking outstanding rally
The next Physiological resistance was at 73$, Where Terra Luna Price Broke it in 1st attempt and eventually took healthy support, and then Price started rising again to the next resistance.
Next Horizontal Resistance was at 85 – 87$ Zone which kept Luna stagnant for a bit but ultimately it broke out when whole market rose on this Monday night.
Terra Luna Price is very near to its All-time High peak price point, Now there are two possibilities for you to look at:
Whether Luna goes and break 87$ support and find it as current support and after that we may come to the point, Terra Luna Price can actually come to the ATH and make a new ATH and enter in a price discovery phase!
But But But, We all know there's a most famous price pattern is known as Double top. So Terra Luna Price may form a double top pattern and start a downtrend.
These are 2 possibilities that may happen or may not happen, Also it all depends on hows the Crypto Market AKA BTC price action tells, So just wait and watch the levels I shared below, so you guys can get a whole idea of what I am talking about.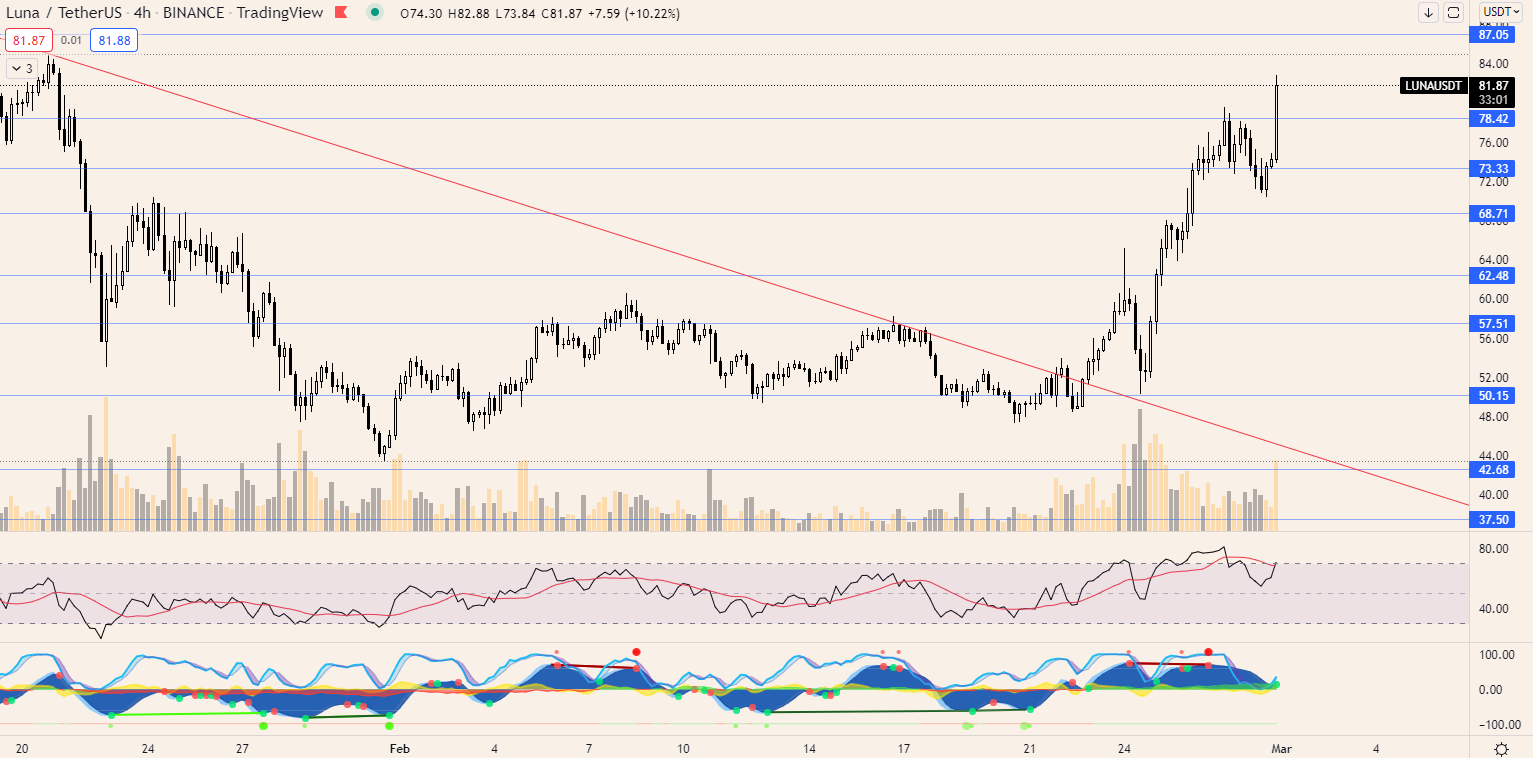 A $70 buy order can be placed if the crypto market continues to rise.
If the crypto market falls below $50, a short sell can be made according to the price action of Terra Luna Price.
It's critical to remember to set an appropriate stop-loss based on your risk tolerance.
5 Things to Know Before You Buy Terra (LUNA) Coin
Terra already has millions of users and is working on several significant projects. If you're thinking about investing in Terra, here's what you should know.
1) Terra Luna tokens balance out its stable coin prices.
Terra uses Luna tokens to keep its stablecoin prices where they should be. When the stablecoin supply needs to be increased or decreased, it incentivizes trading between Luna and stablecoins.
Consider the following scenario: UST, Terra's US dollar stablecoin, is in high demand. As a result, the price has risen to $1.05, when it should have been $1. Terra will need to increase the quantity of UST tokens to counteract this.
2) In South Korea, Terra is the most popular.
Terra has enjoyed the most successful in its home country of South Korea so far. According to a Terra video from May 2021, its stablecoin linked to the South Korean won is utilized by over 2 million people each year to spend over $1 billion. In addition, Terra's stablecoin, pegged to the Mongolian tugrik, was utilized by 40,000 people every month.
Terra, to its credit, already has a clientele. Of course, there's no assurance it'll succeed in expanding to the United States, but as we'll see later, it's offering a significant incentive to acquire its US dollar stablecoin.
3) Terra is giving a 20% interest rate on UST.
Terra introduced the Anchor savings and lending protocol on March 17, 2021. Users can deposit stablecoins and earn interest on them using this protocol. The simple interest rate yearly on UST deposits is around 20%.
Because UST is a stablecoin with a $1 value, earning 20% interest is appealing. However, it's worth mentioning that the interest rate may vary in the future, and even stablecoins aren't as safe as cash in a bank account.
The high-interest rate may aid in the growth of UST's customer base. If it happens, Terra's Luna token price will most likely rise.
4) Luna tokens are also utilized for project staking and governance.
Holders of Luna tokens have the option to stake their tokens. You pledge those tokens to the network when you stake Luna, and they're used to validate transactions. There is no danger in doing so. You can always pull your tokens out of the game (unstacking can take up to 21 days). In addition, you get a part of the transaction fees Terra earns on the use of its stablecoins if you stake Luna.
Token holders have a say in Terra's destiny as well. For example, Luna holders have voting rights in the project because it is a governance token.
5) The Terra blockchain is in the top five in terms of revenue.
The Luna cryptocurrency hasn't cracked the top 20 in market capitalization. The Terra blockchain, on the other hand, is already one of the largest. According to Token Terminal, Terra is in the top five in terms of revenue. It trails Ethereum (ETH), the Binance Smart Chain, and Bitcoin but is tied with Polygon (MATIC).
For Terra enthusiasts, this is a promising omen. Terra is one of the most profitable cryptocurrency projects, even though many others are still developing.
In conclusion,
The Terra Blockchain's governance and the native token is LUNA. Since its introduction in 2018, the Terra project has been a huge success, and the coin has benefited from it. Thanks to a tremendous price rise, LUNA's price increased by more than 10,000% in 2021. According to crypto analysts, more is expected in 2022, when they believe that the token will be at the top of crypto investors' wish lists. 
I would say always keep an eye on Terra Luna's price because I don't want anyone to lose this valuable gem at a discounted price! Rest, always. I am not a financial advisor. DYOR before investing or trading! Till then, keep reading and keep gaining knowledge on the crypto space through cryptocurrencysimple.com.
Frequently asked questions:
1) What is the Luna currency?
Terra (LUNA) is a blockchain-based payment network with a wide range of services. The network supports several stablecoins, each of which is linked to a distinct fiat currency. In addition, there is a LUNA token that serves as collateral for these stablecoins and as network fuel.
2) What is the total number of Luna coins in circulation?
It has a circulating supply of 1,706,430 LUNA coins and a maximum supply of 1,705,430 LUNA coins.
3) How good is Luna as a cryptocurrency?
In 2021, LUNA was one of the best-performing cryptocurrencies. Over the last 12 months, the coin has increased in value by more than 13,800%, beating most of the other cryptocurrencies. LUNA is presently the ninth-largest cryptocurrency by market capitalization due to its surge.
4) Is Luna a good financial investment?
Some may be surprised to learn that Terra Networks' LUNA cryptocurrency was the best-performing investment in the previous year, with a return of over 14 700 percent in 2021. In reality, an R1,000 investment in LUNA would have yielded +R147,692 over the last year.
5) Is it okay if I mine Luna?
To mine transactions in the Terra system, miners must put some of their Luna into the system. This is called Proof of Stake (PoS). A validator who has staked more Luna has a better chance of making the next Terra block than one who has staked less.
6) Why is the value of the Luna currency continuing to increase?
On Tuesday, people who bought tokens from LFG agreed to keep them for four years, so the company raised $1 billion for its reserve fund. It was a big deal because Jump Crypto, DeFiance Capital, and Three Arrows Capital helped fund the investment round. This caused a big rise in the value of LUNA at the moment.