What IF India Bans Cryptocurrency in 2021? Consequences, Negative Effects on Indian Economy?
Cryptocurrency is a scam and an MLM scheme. Cryptocurrency is a Ponzi scheme. What is this? What is its intrinsic value? If you invest in shares, then there is a business behind them. For currencies such as US Dollar, Indian Rupee, There's a government behind all of this.
Rumours and Negativity on Cryptocurrency in India
but why Indian Government is behind Cryptocurrency? If you made a wrong transaction in Cryptocurrency, who would you complain to? If there is a wrong transaction in the bank account, we can call the bank.
 If the crypto exchange you were investing in ran away, to whom would you complain? And there is UPI for the transaction. It is transferred in seconds, and it is also done cheaply. So what is the need for bitcoin? Let's say bitcoin is acceptable, then what is the need for 12000 identical coins? Stop all this. There should be a ban.
Hi guys, It's Cryptocurrencysimple.com. Back here with another discussion on a hot topic which is What if India Bans Cryptocurrency? So right now, you must be wondering what it was. What's going on on television these days is full-on negativity about Cryptocurrency.
Everyone has been convinced on television that Cryptocurrency is nothing and has no intrinsic value. No one knows what will happen on the blockchain. People are investing extravagantly in the greed of getting rich. Its nothing. But today, I will not discuss what a cryptocurrency is and what blockchain is ( To know more about Fundamentals on Crypto, Check our articles on Blockchain and Bitcoin History). 
What If India bans Cryptocurrency?
We will discuss what to do now if India bans cryptocurrency. It started in 2018 when the Indian Government told all the banks that they should not facilitate your transactions through your service crypto exchange. As a result, the bank had discontinued its cryptocurrency service.
 In 2020, the Supreme Court said that you could give services. Then the ban was lifted. Then after that, this draught came out that the crypto bill would come, and every three months, it gets printed in the news that the crypto bill will come. And then the investors start creating panic.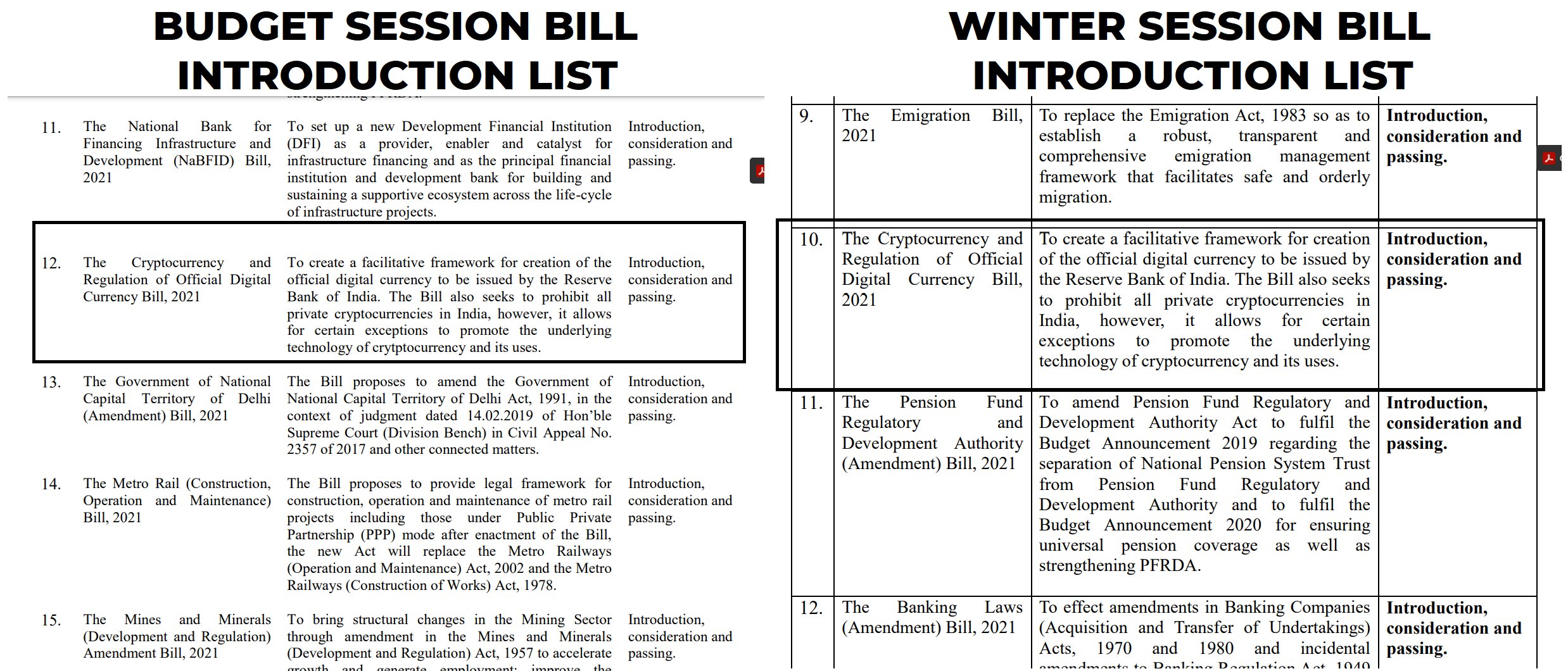 So this is the headline of the crypto bill, which was like this before, and it is so today. And it is written in it that cryptocurrencies are going to be banned. No one knows what a private cryptocurrency is because there are no such private crypto coins in the crypto community. 
However, there are 6-7 cryptocurrencies whose transactions are not available on the public blockchain, and they are called "private currencies," such as Dash, Monero, and Verge. But other than these, all the other cryptocurrencies are public. The Government says that public Cryptocurrency will remain and private Cryptocurrency will be banned, but there may be another definition.
 According to the Government, all those that do not belong to the Government are private, like Reliance and Amazon, so that makes sense. If the whole company is private and the only one that is public means that it comes under the Government, so it can happen, but the clarity is not there for anyone, so we will have to wait for the bill, but if it is closed, then what will we do? Why is the Government of India bans cryptocurrency? 
1) Frequently TV advertisements campaign regarding bitcoin trading and investing 
So first, they checked. Right now, two and a half percent of the ads running on TV are about crypto, urging you to come and invest in crypto. So the Government feels that the youngster is being misled. And people say that if you invest money, it will double overnight and become a millionaire. This is the concern of the Government regarding India bans cryptocurrency. 
2) GOI feels Bitcoin can lead Indian youth into some malpractices
The second Government feels that through its terror funding, drugs or money laundering, the saffron of all these will increase significantly. The transactions in crypto are on the public blockchain itself, but the details of who is behind those transactions are not there, so there is little concern about governments.
Also, 
A committee was also formed on BACC in which all the crypto exchanges, a total of 15 exchanges, are the founders. So he gave some guidelines and feedback to the Government, but what the Government is doing, we will know only after the crypto bill comes.
India is now second highest in terms of Crypto investors worldwide!
There are 100 million crypto investors in India, the highest in the world. The US, which is hi-tech and developed, has only 30 million investors. So yes, it is also a matter that India's population is very high, but 100 million investors matter a lot. 
Because the stock market is 100 years old, it has been trusted over time. And a lot of things happened, but the stock market is still there. No scam, no Ponzi scheme. Even then, there are only 80 million investors in the stock market. 
Thirty million came last year, only after the pandemic. So it is a big deal to have 100 million investors in the crypto market. However, those with thousands of crores of rupees invested in the crypto market can't be banned because it has become mainstream. 
How will GOI will manage, If India bans Cryptocurrency?
If the Government bans, then how will it ban it? How can anyone prohibit it? Crypto is a decentralized platform, similar to computer code; how can anyone prohibit it? Pubg and porn were also banned, but people continued to use them by using a VPN. 
There is still the possibility of tracking a little bit through GST, or it can be many other things. Like bitcoin, blockchain is a technology that many governments are trying to use to their benefit. Like bitcoin, in El Salvador, they have given their legal tender. Has been accepted. And with the bitcoin dump that just came, he has bought 100 more bitcoins at a discount of 20%, and he is also building his bitcoin city.
Many countries are thinking of legalizing it, and many countries have regulated it. So if India bans cryptocurrency, we will be far behind in technology. So many people are comparing it with the internet, but it is the internet only. This is a decentralized internet, so India was left behind a bit when the internet came in the '90s. And the rest of the developed countries benefited the most. 
At that time, Amazon, Google, and Facebook were such big companies, almost all from other countries and not from India. So maybe if India takes advantage of blockchain technology and regulates the framework correctly, then massive startups can come out of India. 
Because blockchain is such a technology, anyone can start their startup from anywhere. So any developer can start their startup in this decentralized world. No extra resources are needed for this. That is why India should not be left behind in these technologies. 
And if it is banned, its execution will become very difficult, and tracking of transactions will also become more complex. So, therefore, the chances of banning it are very low. As we understand from reading the statement of the government officials, its recording cryptocurrency will not be used for legal tender, i.e., payment and transaction in India. By giving it an asset class category, regulations can be imposed on it, or taxation can be assessed.
 How will the regulations apply to our crypto?
 Let's understand it in this way, For example, coinswitch kuber. Framework guidelines will be laid out on these so that you can list these cryptocurrencies on your platform. If you can do this in this way, there will be proper guidelines that if you match these conditions, only you can continue your operations in India, the way SEBI regulates the stock exchange.
In this manner, an organization will be created that will regulate all crypto exchanges. The rules and regulations will be changed so that the investors' money is not lost, and the way everyone had come, another organization will be formed in the same way to save the investors, and that will be to save the crypto investors. 
There should not be any fraud with him. which is bringing India's digital currency, and it may first transfer your INRs and then transact with CBDC. He may be a little bit tracked in the crypto market. This may be a plan, but no one has clarity yet. 
A lot of responsibility belongs to crypto exchange patterns. Like Coinswitch and Kuber, some selected crypto on this platform is secure and fundamentally strong. It is safe and secure. That's why I use the Coin Switch Kuber App for crypto trading. You can also start crypto trading by clicking on the link. 
If you want to know more about Indian exchanges, like which are best in user interface and quality, then we have written a well-defined article on this topic, don't forget to check it out.
More info on Taxation on New crypto bill before India bans Cryptocurrency.
Everything will be evident in the crypto bill and how the taxation will be done because of uncertainty. Some people treat it as income from the stock market, so there will be clarity there. 
And this crypto bill is going to come in the winter session, but how long it will be applicable, how many discussions will be there, how many years it will take, how many months it will take, no one knows. Before, just like with demonetization in India, no one knew something like this would happen. No one thought something like this could occur. 
So we should be prepared, but what if India bans cryptocurrency? So, first and foremost, you should only invest in real solid cryptocurrencies. Those with a good use case and a high market cap should be in the top ten cryptocurrencies. You should invest in them; Even if Cryptocurrency is banned, you will be given time to decide. After that, you can hold, sell, or transfer them to someone. So, if you are given time, there is no need to panic now. 
So, if you've invested in Fundamentally Strong Cryptocurrency, congratulations! There is no need to panic by definition, which is the impact on our Indian exchange. It will be more on the global exchange, so the effect on this will be more negligible. So you can test it on a worldwide exchange like Binance for crypto trading. Because there, your crypto can be quickly sold or purchased if there is a ban. 
Because the ban will be imposed on banking services and exchanges, The crypto you have should be stored in your wallet. And there will be some way out from where you can send your crypto to the wallet and send it from the wallet to your bank because if something is banned, then its solution also goes out very quickly. Everything is a joke because sellers will be found to sell crypto. 
Crypto Is Future! 
After all, the crypto market will remain globally, and there will be buyers and sellers. Because crypto is such a technology that will be in the future, even if it is banned in India, you will find buyers, so save crypto in your wallet and when you feel that it is giving you a good profit, sell it. You can sell it at that time in the foreign market. 
So friends, after reading the statements of the government officials, it seems that the crypto market is not going to be regulated. Still, you should be prepared for every situation and should not panic. If any update comes regarding India bans Cryptocurrency, We will tell you by tweeting or through a short article. Whats your thoughts on India bans cryptocurrency? Let us know below in the comment section! We would like to hear your opinion as well.
Pro and Last tip: 
You should use the global platform and also use the wallet to keep your cryptos safe and secure. And you should only invest in solid cryptocurrencies.